Dries Van Noten's SS 2015 collection was inspired by the idea of John Everett Millais Ophelia (1852) and also by Shakespeare's A Midsummer Night's Dream. Both reconcile the mythical fairy world with golden illuminated colours and fabrics with the woodland's forest mossy floor. Van Noten and his team asked the Buenos Aires artist Alexandra Kehayoglou to weave a rug in all those mossy colours for the runway.
The carpet evokes moss and grass and is made of pure Patagonian wool. Three teams of ten carpet makers worked in shifts around the clock. This was the biggest project of Alexandra's career to date.
Alexandra, an Argentine artist, follows in the family tradition of her Greek grandparents who migrated to Argentina carriying with them this textile tradition of rug and carpet making. She develped a whole new artwork for Dreis, a 48 meter long (4 parts 12 metres each) and 3 metres wide carpet. The carpet has been woven and tufted entirely by hand over four week and arrived just in time for the show.
The setting for the show was inspired by Summer festivals and the solstice, A Midsummer Night's dream, quiet ans sylvan revolution.
"As soon as I discovered Alexandra's work I immediately understood she was the only one I could collaborate with to execute the idea"
Dries van Noten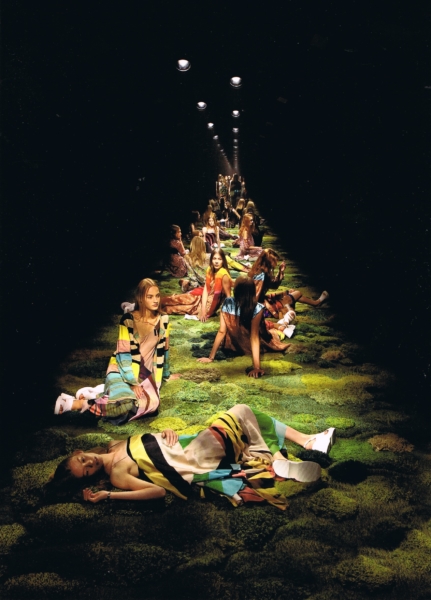 There were block-striped silk, pajama patterns in filmiest fabrics, patched brocade and shimmering combinations of jacquard and Lurex; some glinting with metallic stripes. At the finale, all models took a rest on the wonderful carpet. Hippie stylish – languid sprawling on soft mossy grass! 

Now this wonderful carpet is presented by Andreas Murkudis in Berlin at the old "Kaufhaus Hertzog", which is under reconstruction at the moment and so a typical "super cool Berlin" location! Just see for yourself …
all pictures ©2015 by Ruth-Janessa Funk